Genre: Adult Contemporary Humorous Romance
Release Date: October 7, 2014
In the fourth sexy romance by the New York Times bestselling author of Tangled and Twisted, Drew and Kate can't wait to tie the knot—if they can survive the pre-wedding festivities.
For most of my life, I never imagined I'd get married. But Kate did the impossible: she changed me. I think we can all agree I was pretty frigging awesome before, but now I'm even better.
The road to this day wasn't all rainbows and boners. There were mistakes and misunderstandings worthy of a Greek tragedy. But Kate and I made it through with our inexhaustible lust, boundless admiration, and everlasting love for one another intact.
That being said, there were some unexpected incidents in Vegas last weekend that could have been a problem. It was kind of... my final test.
I know what you're thinking—what the hell did you do this time? Relax. Let's not judge, or call for my castration, until you've heard the whole story.
And hold on tight, because you're in for a wild ride. Did you expect anything less?
Excerpt:
"I hover over her, just close enough to caress her with my breath. "Fuck, Kate, the things I want to do to you…"
Her round, dark eyes drift over my face — filled with love and need. Docile and demanding at the same time.
"I'm yours, Drew." She whispers. "You can do anything…everything."
Does she understand what she's offering? How badly I want to hear her voice, soaked with pleasure, screaming my name until it echoes off the hills around us?
Anything?
Oh, the possibilities."
My Review: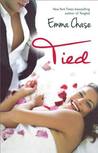 Tied by Emma Chase
My rating: 5 of 5 stars
Tied by Emma Chase is the fourth novel in her Tangled series and is the one we have all been waiting for...
**~** Drew and Kate GET MARRIED**~**
Any reader of Emma Chase knows we get the snarky perspective of Drew and we LOVE it! This time around it's their getaway for the bachelor and bachelorette parties and they're going to Vegas baby! Kate, Drew and their closest friends are leaving the kiddies with grandparents and going to celebrate the impending nuptials in style. What could go wrong?!?!?
Glad you asked... Yet another hilarious and heartwarming story in the world of Drew. Emma Chase is an author that is definitely on my automatic list. What's that, you ask? I will automatically buy her books regardless of storyline or reviews as I have loved all I've read to date.
So go - read - but if you're new to the series, do yourself a favor and start at the very beginning, it's a very good place to start.
The Series:
About The Author:
By day, Emma Chase is a devoted wife and mother who resides in a small, rural town in New Jersey. By night she toils away the hours bringing her colorful characters and their endless antics to life. She has a long standing love/hate relationship with caffeine.
Emma is an avid reader. Before her children were born she was known to consume whole books in a single day. Writing has also always been a passion and with the 2013 release of her debut romantic comedy, Tangled, the ability to now call herself an author is nothing less than a dream come true.
Some of Emma's favorite quotes from Tangled -
"You are making me crazy!"
"Crazy like you want to rip my shirt off again?"
"No - crazy like the itch of a yeast infection that won't go away!"
"And I will be damned if Kate Brooks is going to walk her ass in here and take that away from me. No matter how fine of an ass it may be."
"Words are cheap. Actions win wars. Actions heal wounds."
"It makes me want to kiss her and strangle her at the same time. I've never been into S&M. But I'm beginning to see its benefits."