About The Book:
Title: Sustained
Series: The Legal Briefs #2
Author: Emma Chase
Expected Publication: August 25, 2015
A knight in tarnished armor is still a knight.
When you're a defense attorney in Washington DC, you see first-hand how hard life can be and that sometimes the only way to survive is to become harder. I have a reputation for being cold, callous, intimidating – and that suits me just fine. In fact, it's necessary when I'm breaking down a witness on the stand.
Complications don't work for me - I'm a "need-to-know" type of man. If you're my client, tell me the basic facts. If you're my date, stick to what will get you off. I'm not a therapist or Prince Charming – and I don't pretend to be.
Then Chelsea McQuaid and her six orphaned nieces and nephews came along and complicated the ever-loving hell out of my life. Now I'm going to Mommy & Me classes, One Direction concerts, the emergency room and am knee deep in a damn compost pit.
Chelsea's too sweet, too innocent and too gorgeous for her own good. She tries to be hard, but she's not. She needs someone to help her, defend her…and the kids.
And that – that I know how to do.
My Review: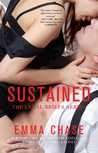 Sustained by Emma Chase
My rating: 5 of 5 stars

Sustained by Emma Chase is the second book in her Legal Briefs series. This is the story of the perpetual bachelor Jake Becker and the unsuspecting (and very patient) Chelsea McQuaid.

This was my favorite story by Emma Chase to date. I have thoroughly loved ALL the others and I don't think any came away with less than a 5 star rating, but seeing the transformation with Jake throughout this story - it blew me away.

Jake is a perpetual bachelor. No desire AT ALL to settle down. SO when an encounter with a young pickpocket causes his path to cross with Chelsea the ensuing chaos is charming, endearing, heartbreaking, and beautiful. So much happened from that one encounter.

Also, the humor throughout the book, even while it was being romantic and dramatic was spot-on.

I FREAKING LOVED IT!!!!!!!
About The Series:
Title: Overruled
Series: The Legal Briefs #1
Author: Emma Chase
Expected Publication: April 28, 2015
Emma Chase, New York Times bestselling author of the Tangled Series, returns with the first installment of the Legal Briefs Series.
As a DC defense attorney, Stanton Shaw keeps his head cool, his questions sharp, and his arguments irrefutable. They don't call him the Jury Charmer for nothing – with his southern drawl, disarming smile and captivating green eyes – he's a hard man to say no to. Men want to be him and women want to be thoroughly cross examined by him.
Stanton's a man with a plan. And for a while, life was going according to that plan.
Until the day he receives an invitation to the wedding of his high school sweetheart and mother of his beloved ten-year old daughter. Jenny is getting married — to someone who isn't him.
That's definitely not part of the plan.
***
Sofia Santos is a city raised, no-nonsense litigator who plans to become the most revered criminal defense attorney in the country. She doesn't have time for relationships or distractions.
But when Stanton, her "friend with mind-blowing benefits" begs for help, she finds herself out of her element, out of her depth, and obviously out of her mind. Because she agrees to go with him – to The-Middle-Of-Nowhere, Mississippi – to do all she can to help Stanton win back the woman he loves.
Her head tells her she's crazy...and her heart says something else entirely.
***
What happens when you mix a one stop-light town, two professional arguers, a homecoming queen, four big brothers, some Jimmy Dean sausage and a gun-toting Nana?
The Bourbon flows, passions rise and even the best laid plans get overruled by the desires of the heart.
About The Author:
By day, Emma Chase is a devoted wife and mother who resides in a small, rural town in New Jersey. By night she toils away the hours bringing her colorful characters and their endless antics to life. She has a long standing love/hate relationship with caffeine.
Emma is an avid reader. Before her children were born she was known to consume whole books in a single day. Writing has also always been a passion and with the 2013 release of her debut romantic comedy, Tangled, the ability to now call herself an author is nothing less than a dream come true.
​