Are you ready to meet Rage?
Now is your chance!


All The Rage by T.M. Frazier is LIVE!
My real name is like a shadow, always close behind, but never quite able to catch up.
I fly under the radar because no one ever suspects I'm capable of the kind of brutal violence I commit each and every day.
You see, I'm a girl. I'm nineteen.
This life is all I know. It s all I want to know. It keeps the s**t buried that I need kept buried. It allows me to live without thinking too much.
Without dwelling on the past.
It all changes when an ordinary boy becomes my next target.
The only life I ve ever known has to die, or he does.
Either way, I ll be the one pulling the trigger...
All the Rage is a STANDALONE
It was once said that if you love someone enough you should let them go. If they come back to you, they were always meant to be yours.

It's kind of bullshit.

My story was a little different than most. I was a little different than most.

Because in my story, if you love someone enough, you should first drop the gun.
My Review: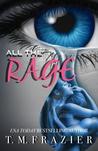 All the Rage by T.M. Frazier
My rating: 5 of 5 stars

All the Rage by T.M. Frazier is a standalone novel. While she is a character from Bear and Thia's story this story is entirely hers, and O M G what a phenomenal tale this is. I was, quite literally, blown away. Well-paced and extremely well-written, T.M. Frazier's writing style is one that just absolutely fits for me and I devoured this book in just a few short hours.

Rage's story begins with her as a young girl, with an insight into her personality... quirks... and then progresses through to her current job, Nolan. The gorgeous hockey player with a massive cast on his leg that currently resides in a wheelchair. Their initial encounter is borderline hysterical, only topped by their second. Rage (AKA, The Angel of Death) has a job to do and she will do it come hell or high water, just not pool water because... gross.

Nolan has some secrets of his own and it isn't until he gets a better sense of Rage's issues that he starts to contemplate letting her in on his secrets.

This book, WOW, just wow. Definitely one of my favorite authors and this book was ridiculously awesome.
T.M. (Tracey Marie) Frazier resides in sunny Southwest Florida with her husband and three feisty fur kids.
She attended Florida Gulf Coast University where she specialized in public speaking. After years working in real estate and new home construction, she decided it was finally time to stop pushing her dreams to the back burner and pursue writing seriously.
In the third grade she wrote her very first story about a lost hamster. It earned rave reviews from both her teacher and her parents.
It only took her twenty years to start the next one.
It will not be about hamsters.