ARE YOU READY TO MEET JEFFERY ROSSI?
LOST IN REWIND RELEASES ON SEPTEMBER 1ST!


Now Live!
Inside every story lies more than one truth.
"Come, boy, I will give you a reading…show me your hands."
Jeffery Rossi wants to be a man of logic but finds himself basing his life's decisions on a prophecy delivered at the hands of an old gypsy fortune teller. The death of his beloved wife coupled with the loss of what he thought would be his carefully crafted future, have spun him onto a path of self-destruction.
"Three children will come from you—a king and two queens."
Jeff believed he knew how his future would unravel, but he's about to get a lesson in how the Universe works. Fate should not be left to the interpretation of mere mortals. Interfere and suffer, surrender… and let the fates help you find your destiny.
"No matter what you do, no matter how far away you run, what's written in the stars cannot be undone."
Chapter 3

Jeffery

"Never Gonna Give You Up" by Rick Astley




A good person, a good man, a good father wouldn't leave his children a few days after their mother died to go hide in a secret love-shack he once kept with their biological mother. Juliet and Jacob deserve a good parent, and not a shit mess like me. I'm a worthless, empty excuse for a man without my wife, I'm nothing without Sara, and they can't see me like this. If they look into my eyes, they'll know I'm dead, too.




My secretary has left no less than two voicemails every fucking hour on the hour—my father-in-law, too. The whole world wants to tell me how sorry they are for me. I only check my phone to make sure it's not my babies trying to reach me. My parents and my whole family are at my house with them, and all I can think about is how alone we are. My mind won't let me forget about Sara—the girl I once met in a New York club on a dirty dance floor, the girl that offered to blow me as a joke, only the joke was on me. Just one kiss and she fucked me up for life, but I'd do it all over again because I owe her everything. What the fuck is wrong with me? It's as if my heart is finally allowed to explode and all the feelings and thoughts I've trained my mind to keep under control are blasting out, and I can't do anything but let it consume me. The prophecy I've held onto for fourteen years has waited long enough, and it begs to finally play out.
My Review: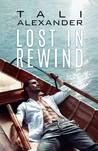 Lost in Rewind by Tali Alexander
My rating: 5 of 5 stars

Lost in Rewind by Tali Alexander is the third book in her Audio Fools series. While it is stated that this CAN be read as a standalone without having read the previous two books (Love in Rewind & Lies in Rewind) I would recommend reading this series in order. When I dove into book three ahead of any others I felt a loss of detail that had me going back and reading the previous two books to get the layout of the world and the entirety of the story so far. I feel it was better that way.

This book is emotive. It is written in such a way that you will feel each and every emotion along with the characters, deeply. I won't give away any of the story as you truly need to experience it with the characters. Prepare yourself. Settle in. Be comfortable. Once you start you will NOT want to stop.

Jeffery's character is redeemed in my eyes from what I previously thought of him and while anything resembling a triangle makes me so unbelievably uncomfortable, the way this whole book plays out makes it bearable. And Sarah, well, she also makes a whole lot more sense now. Being able to delve deeper into a character, to see their motivations and reasons behind their actions can completely change your perspective on that character.
Have you read Love in Rewind by Tali Alexander yet?
NOW ONLY 99¢
Get your copy here:
Tali Alexander is a Jill-of-all-trades—married mother of three, doctor of pharmacy by day and romance novelist by night. Tali has fulfilled her passion of writing with her debut romance novel LOVE IN REWIND (first book in the Audio Fools trilogy). Since its debut, fans have embraced the unconventional love story of Emily and Louis Bruel making LOVE IN REWIND #1 on Amazon Kindle charts (September 2014). With an increasing demand from her fan base for the next installment, Tali has recently released the next story in the Audio Fools trilogy…LIES IN REWIND, out now!!!