Genre: Sexy Romantic Comedy/Contemporary Romance
Release Date: February 5, 2018
Some men are troublemakers or dealmakers. The men in my family? We're baby makers.
For six generations, the women of wine country have had a saying: don't bang a Hunter man unless you want a bun in your oven.
Yeah, well. I've got a saying too: no thanks. The last thing I need is baby makes three. My business is expanding and the only thing I'm interested in getting knocked up is my bottom line.
But then one night Emma Haverford makes me an offer I can't refuse—she backs away from the land I have my eye on in exchange for a favor…
A big, fat, baby making favor…
When I hear women have gotten pregnant shaking hands with Hunter men, I know I need Dylan Hunter's…ahem, special skills…way more than I need to expand my vineyard.
I'm ready to give my heart to a child and I'm tired of waiting for my late-to-the-party Prince Charming to make my dreams come true. So I promise Dylan—three months of hot, heavy, baby-making s-e-x and then I'm out of his hair forever.
But what if when it comes time to say good-bye, all I want to do is keep bottling up more memories with this big-hearted man?
This sexy Standalone romance will make you laugh, swoon, and blush baby-makin' red. Heat level: A risk of getting knocked up during download. Paperback and audio versions are especially dangerous. Handle with care…
Narrated by Andi Arndt & Sebastian York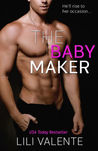 The Baby Maker by Lili Valente
My rating: 5 of 5 stars

The Baby Maker by Lili Valente is a new stand alone romance told in dual POV between the infamous Baby Maker himself, Dylan Hunter, and the woman that bargain's for his baby making stuff, Emma Haverford. Another wonderful, funny, romantic, endearing story from one of my absolute MUST-READ authors.

Emma's clock is ticking. She split from her cheating fiance, quit her successful Silicon Valley job and bought a winery and is now learning to appreciate the slower side of life in the country. Except, the only thing she can't approach slowly is her ticking biological clock.

Dylan is angry with his pumpkin patch owning neighbor that he is even entertaining the idea of selling his land to the new girl in town, the aggravating Emma Haverford. He wants that land to start growing vines again for his family's farm and to keep his dad off his back. Nevermind she offered 10K ovr asking, this guy calls Dylan the "grandson he never had". The nerve of the new girl to try and steal the land to expand her winery! Nevermind that she is beautiful and sassy and his neighbor...

When Emma propositions Dylan about giving the baby making a try for three months and she'll back of the sale he is conflicted. The story only gets exponentially better from there. The family dynamic of the Hunters and between Emma and her sister. The romance that blossoms between Emma and Dylan. It is sexy and hot and sweet and the characters are wonderfully developed. I am so excited to see what happens in the next standalone story, The Troublemaker! Enjoy!
Lili Valente has slept under the stars in Greece, eaten dinner at midnight with French men who couldn't be trusted to keep their mouths on their food, and walked alone through Munich's red light district after dark and lived to tell the tale.
These days you can find her writing in a tent beside the sea, drinking coconut water and thinking delightfully dirty thoughts.