VERY IRRESISTIBLE PLAYBOY
By Lila Monroe
Release Day: January 22nd, 2018
Billionaire Bachelors Book 1
Welcome to Billionaire Bachelors Inc, where the sexiest men in the city are about to meet their match…
Hot bachelor Max Carlisle is heir to a media empire, tabloid catnip, and… wants to hire me to be his fake fiancee. I know what it takes to keep a billionaire in line, but signing up for seven days in close quarters with this Very Irresistible Playboy? It's just asking for trouble. The kind of thrilling, reckless trouble I could use a little more of since my career is currently ass-backwards in a mud bath with six shih-tzus (don't ask).
a) Take the job, and bicker wildly every step of the way?
b) Embark on a mad-cap treasure hunt to claim his billion-dollar inheritance?
c) Try my hardest not to fall head-over-heels in love with him and wind up having the best sex of my life?
Something tells me I'm about to be way out of my league… and under the most handsome, infuriating man I've ever met. But with a fortune on the line, can we beat out his crazy relatives to win the prize? And will our fake relationship be game over at the finish line?
Find out in the new sexy, hilarious romantic comedy from Lila Monroe!
Billionaire Bachelors Series:
2 - Hot Daddy (April 2018)
3 - Wild Card (June 2018)
PreOrder Today!
Max sets me down gently, and brushes a strand of wet hair from my face. His eyes are stormy blue in the darkness, and his fingertips hot against my face.
My breath catches. My eyes drift to his mouth, and then just like that, he's pulling me close again, into a hot, reckless kiss.
Ahhh.
God, I've been dying to taste him again. His mouth is hard and possessive, claiming mine, and a shudder of lust rolls through me at the feel of him. His hands are all over me, molding me against him as the fire between us blazes hotter, and I forget everything. Like my rules, and our arrangement, and the fact I've sworn off men like him . . . None of it matters, not with Max's tongue doing wicked things to mine, and his body so hard against me.
Very hard.
Hello.
My Review: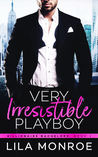 VIP by Lila Monroe
My rating: 5 of 5 stars

VIP by Lila Monroe is the first book in her brand new Billionaire Bachelors series. Lila Monroe is a must-read author for me. I absolutely adore the compact stories that take you from meet-cute to hot and steamy to angsty drama to happily ever after at a perfect whirlwind pace. The books can be devoured in one dedicated sitting and her heroes and heroines are addictive. Strong females, alpha males, passion and heat - it all combines to make great story after great story.

Hallie quit her job as a successful executive admin for Jack Callahan (Perfect Match) and decided to finally take the risk and explore her photography dreams. It isn't all it is cracked up to be but the wedding from hell that she is assisting with does have it's high point right before everything goes down the drain - or in the pond...

Max can't stand 90% or more of his family so when his grandfather has told everyone to attend his 85th birthday in Palm Springs he knows a change is coming. But he is happy reporting worthy stories for the family empire, Carlisle Publications. Globe-trotting is more his thing, not running the empire from behind a desk. In order to keep the family off his back he decides to take a fake-girlfriend to the family gathering. What could possibly go wrong?

I loved this story and cannot wait for Cal's story in the next book in the series, Hot Daddy: A Romantic Comedy. Enjoy!


Combining her passions for books, sex, and well-fitted suits, Lila Monroe wrote her first romantic comedy, The Billionaire Bargain, in 2015 and hasn't stopped since. She loves writing about smart alpha men, and the strong and sassy women who try to tame them.